Browse Planning Jobs - Australia
Location:

Wodonga, Victoria, Australia
Posted:

26th September
Advertiser:

Wodonga Council
Full/Part Time/Casual - Permanent/Temporary role
Salary starting at $ 93,941.00 plus superannuation
Great work - life balance | Flexible working options available
Are you looking for an organisation that supports staff through career development and flexible work options?
Do you want to escape the city life and experience the regional lifestyle?
Location:

Horsham, Victoria, Australia
Posted:

29th August
Advertiser:

Horsham Rural City Council
Band 7 ($96,520 - $107,991 per annum) or
Band 8 ($112,094 - $125,612 per annum)
Permanent Full-time or Part-time
Flexible working arrangements available
Horsham Rural City Council is a vibrant municipality located approximately 300 kilometres north-west of Melbourne. The majority of its 19,880 residents are located in Horsham, a hub for health care, niche retail, education and schooling, community services, arts, sports and culture.
Here's what arrives in your inbox when you subscribe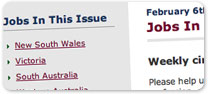 OR