Browse Planning Jobs - Australia
Location:

Sydney, New South Wales, Australia
Posted:

12th August
Advertiser:

City of Sydney
Salary: AUD $64,230 - $71,755 per annum plus Superannuation
Employment status: Full Time Term Contract - 12 months – role to commence in the new year
Option to work under a 19-day month arrangement
At the City of Sydney our people are our most important asset and central to achieving our exciting and ambitious Sustainable Sydney 2030-2050 continuing the vision – developing a green, global and connected city.
The City of Sydney is recruiting for a Cadet Planner for its strategic planning team.
Location:

New South Wales, Australia
Posted:

1st August
Advertiser:

Jobs in Planning
Subscribe to Jobs in Planninng free of charge to receive any new Australian or New Zealand planning opportunities our customers advertise with us.
You will receive nothing but new planning opportunities.
Click here to subscribe
Here's what arrives in your inbox when you subscribe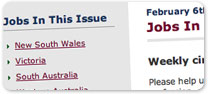 OR