Browse Planning Jobs - New South Wales
Location:

Sydney CBD, New South Wales, Australia
Posted:

2018-07-05
Advertiser:

City of Sydney
$118,304.00 per annum plus Superannuation (Remuneration stated is for the full-time position)
Term Contract up to 30 December 2020
Option to work under a 19 day month arrangement
The City of Sydney is one of the world's most spectacular cities. Every year, another $3 billion pours into its evolution. We are guided by our Sustainable Sydney 2030 strategy and have ambitious goals in transforming Sydney.
We are seeking a highly skilled and motivated senior urban designer to join our Strategic Planning and Urban Design Unit.
Location:

Sydney CBD, New South Wales, Australia
Posted:

2018-07-02
Advertiser:

City of Sydney

- 5975
$118,304.00 - $132,573.00 per annum plus Superannuation (Remuneration stated is for the full-time position)
Term Contract up to 30 December 2020
Option to work under a 19 day month arrangement
Two exciting leadership opportunities are waiting for you at the City of Sydney.
Here's what arrives in your inbox when you subscribe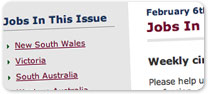 OR